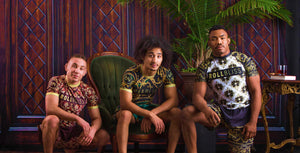 ROLLBLISS SPONSORSHIP PROGRAM
Being a sponsored athlete means more than just wearing our brand's logo; it's a chance to represent our core values and be a part of something bigger. As our brand ambassador, you'll enjoy incredible perks, such as a personalized promo code that your friends and family can use to receive a discount on every purchase they make. In addition to this, you'll have access to our exclusive ROLLBLISS Custom Gear and be featured on our social media channels.

As a sponsored athlete, you'll also have the opportunity to earn paid compensation and take advantage of opportunities to grow your own personal brand. Whether you're interested in creating your own website or launching your own line of clothing, we're committed to supporting your goals and helping you achieve success.

So, if you're passionate about jiu-jitsu and share our values of excellence, integrity, and teamwork, we invite you to join our team as a sponsored athlete. Together, we can achieve greatness and inspire others to do the same.
Simply fill out the application form below to kickstart your journey with ROLLBLISS.
BECOME A ROLLBLISS Sponsored Athlete