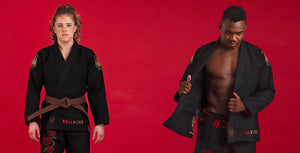 DESIGNER JIU - JITSU APPAREL
WHY ROLLBLISS
RollBliss was the first and is still the best when it comes to fully custom designer jiu-jitsu apparel. Our company was founded on the idea that nobody can be You better than You. This idea is best exemplified in our custom jiu-jitsu gis and rashguards that we craft for clients around the world.
CRAFTSMANSHIP
A skill passed down from generation to generation, our pattern maker and stitcher have over 100 years of combined experience. Rest assured that your custom gi or rashguard will be one of a kind, and that there will never be another like it in the entire world... just like you.
OUR COMMUNITY
To ensure the highest quality and utmost attention to
detail, we only create a limited number of custom pieces
every month. To inquire about working with us to create
your fully custom jiu-jitsu gi or rashguard, call us at
1-877-765-5254 or fill out our short form.
★★★★★

The title says it all. I started my BJJ journey 15 years ago and I've been through a ton of kimonos in that time. By far the best kimono I've ever owned, I love the look and feel. While it wears like a modern style. Understated and bold all at the same time. If I could buy more I would.

Sean Yadimarco

Bergen County Jiu-Jitsu
★★★★★

RollBliss is the best company I've had the pleasure to work with! Their attention to detail and their customer service is by far the best. I've had multiple custom jobs done with Roll Bliss and their quality is unmatched!

Jay Pages

Jay Pages Jiu-Jitsu
★★★★★

RollBliss is the best company I've had the pleasure to work with! Their attention to detail and their customer service is by far the best. I've had multiple custom jobs done with Roll Bliss and their quality is unmatched!

Jack William

Los Angeles