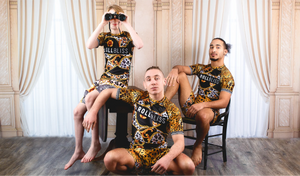 A Luxe Collection by RollBliss
Welcome to the RollBliss Safari Collection, where luxury and performance come together to bring you the ultimate in jiu-jitsu activewear. RollBliss embodies extravagance in the realm of jiu-jitsu attire, proffering both chic and designer jiu-jitsu apparel. Our bold and stylish cheetah print rashguard and shorts are the perfect combination of fashion and function, making them the perfect choice for any active lifestyle.
The Greek mandalas and gold chains on our rashguard and shorts add a touch of sophistication and style that sets us apart from the rest. Whether you're hitting the beach, the gym, or just lounging in style, our Safari Collection has everything you need to make a statement.
Whether you're looking for a bold new look, or just need a reliable jiu-jitsu activewear option for your everyday activities, the Rollbliss Safari Collection has everything you need. So why wait? Browse our collection today and start making a statement with the ultimate in luxury Jiu-jitsu activewear.
Elevate your Jiu-Jitsu Game with RollBliss. Order Now and experience the quality and comfort of the RollBliss Safari Collection