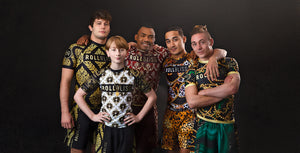 Are you super active on social media and love making unique content? Join the ROLLBLISS community!

As our brand ambassador, you'll enjoy incredible perks, such as a personalized promo code that your friends and family can use to receive a discount on every purchase they make. And that's not all! You'll also get access to discounted RollBliss gear and have the chance to be featured on our social media platforms.

As a RollBliss ambassador, you'll be joining a community that embodies the spirit of jiu jitsu - creativity, inclusivity, and the thrill of movement. Whether you're a seasoned practitioner or new to the art, we welcome all who share our passion for jiu-jitsu and the joy it brings. As an ambassador, you'll have the opportunity to inspire and encourage others to explore the power of jiu-jitsu and its impact on their lives. Join us in spreading the message of RollBliss and help us inspire a new generation of jiu jitsu enthusiasts. With RollBliss, the possibilities are endless, and the journey is always exciting.
We look forward to meeting you! Fill out the application below to get started.
BECOME A ROLLBLISS AMBASSADOR